Senior Full Stack Developer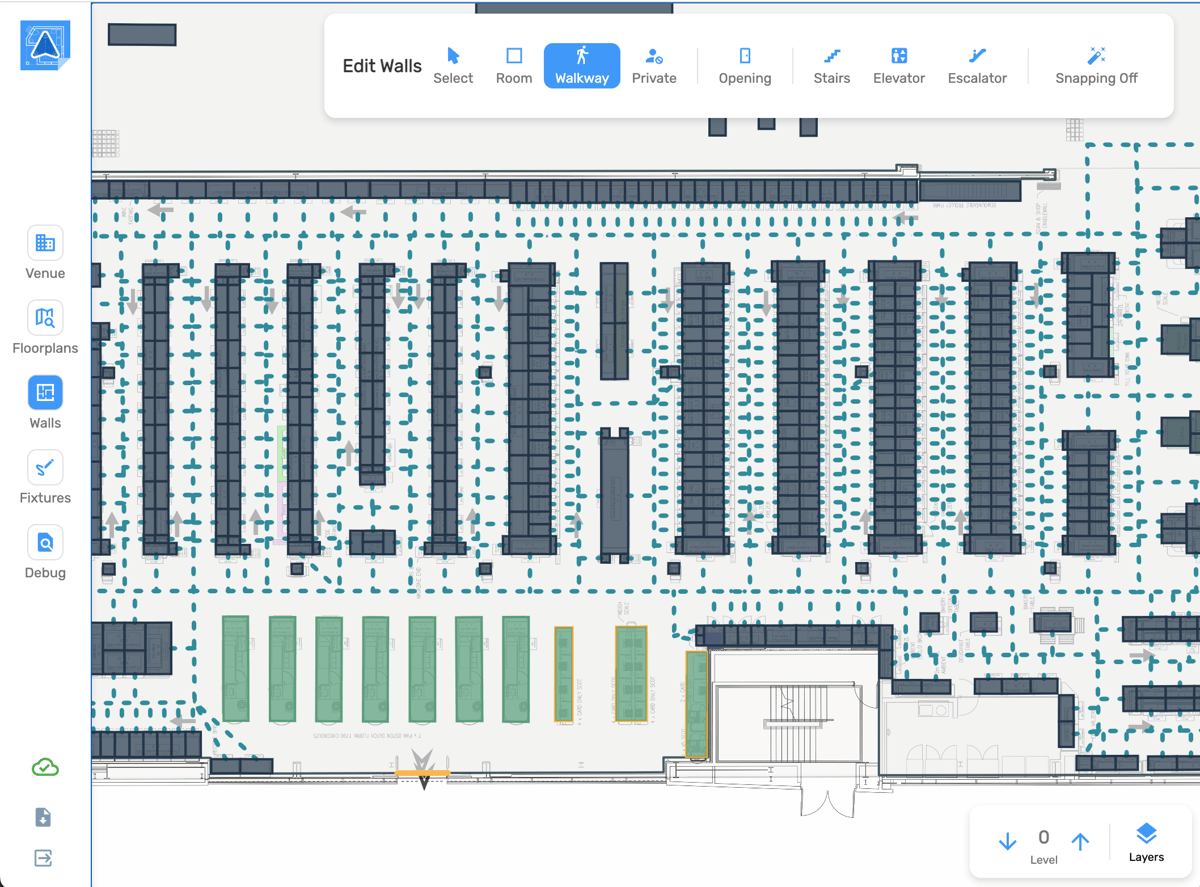 At the heart of our web platform is the map builder, which helps retailers to quickly map their stores.

The role:
Our mission is to bring rich digital experience to every indoor space - changing the way that people interact with the real world. An important part of that is creating self-serve setup tools that regular people can use to quickly map these spaces.
The store map above would typically cost £100k's to produce, and take months of work by experts, using specialist tools. With the innovative work our web team has done so far, we've got this process down to 2 days. We're determined to make it 100x faster still.
As a Full Stack Developer, you will work on our map editing tools, our portal user interface and our backend APIs. You will have a large input into the product experience, technical direction and the future of the platform, working with some of the worlds leading retailers.
What do we do?
With future wearable devices - currently being built by Apple, Meta and others - the real world will become filled with rich digital overlays of information. Much like in every sci-fi movie we've seen, this new technology will become as useful and dependable as the internet is today.

We're building the technology layer which integrates with every location, allowing businesses to serve up these digital experiences for every visitor. Whether it's in retail, or airports, or offices, or museums - our technology will power the next-generation of interaction.

We're starting today on mobile, and in retail stores, where we can help people to find items in-store - with a map that knows where everything is, and by locating the user with the highest level of precision. Check this video to see how it works:
https://twitter.com/AndrewHartAR/status/1499061786565386243

The challenges here are hard and rewarding. Every day, our team is collaborating across different skill sets to explore new problems and build innovative solutions. If you're passionate, driven and looking for the opportunity to have a huge impact solving hard problems, we want to speak to you.
How we work
We've an innovation-driven company - we're building a high-calibre team, where each member is given the freedom to explore new ideas, and takes ownership over their own projects and initiatives.
A part of our magic come from the integration of mapping, location technology and user experience. Collaboration across the team is key to making this happen - we want everyone to contribute and add value in all the ways they can.
By promoting R&D, innovation and new ideas, and with open collaboration across each area of our business, our team is able to build things that haven't been done before, and aren't possible in most companies.

What will you be doing? 
On a day to day basis you'll be:
Working with the team to identify solutions to complex problems in our web portal and API
Implementing features within our mapping solution to improve ease of use and overall experience
Understand and reason about wider web application concerns like design, performance, security, and CI/CD
Close collaboration across a multi disciplined and highly skilled team
Contribute to and maintain a structured and tested code base
What you might achieve in your first 3-6 months:
Take ownership of several solutions within the web portal - examples could be data versioning and rollback of our customers' data, mapping and validation of indoor spaces to ensure precision and reliability of our navigation SDK, or implementing workflows to improve customer onboarding.


What skills/experience are we looking for?
For this role, we are looking for someone with 3+ years of commercial experience.
The role requires working with geospatial data and libraries - GeoJSON, turf.js, GDAL, JTS, JSTS etc.. Experience with these isn't required, but if you love working with maps, you'll be right at home.
Overall, we're looking for someone who is excited about our technology, our mission and can grow in their role as the company grows.
Core technical skills we typically look for - if you don't check every box here, don't worry.
Solid understanding of web fundamentals including a strong foundation in HTML and CSS
Able to reason and think about concerns like accessibility, security, maintainability and performance
Strong knowledge of modern JavaScript
Experience with UI frameworks like React (Vue, Angular etc is fine too!)
Experience with JavaScript testing (we use Jest)
Experience writing Node.js server applications, ideally using a framework (e.g. Express/Nest.js)
Understanding and ability to create REST APIs
Experience and understanding of databases and associated query languages
Understanding of how to design effective data models
Some experience with TypeScript or strongly typed languages
Understanding of version control with git
Comfortable with CI pipelines (we use GitHub Actions)


Working with us
Other than the opportunity to join one of Europe's most exciting and friendly startups we're offering:
£60k-70k salary (depending on experience)
Generous share options
25 days holiday per year
Pension scheme
Our web team is remote-first, across Europe 
Department

Web

Remote status

Fully Remote
Senior Full Stack Developer
Loading application form